OPEN SOURCE: SHARING IS CARING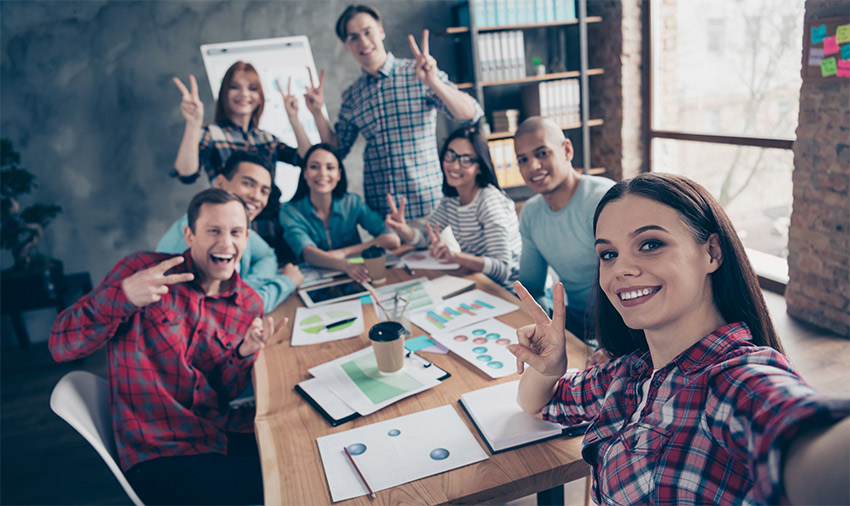 Applications like Microsoft's Office and Adobe's Creative Suite can be expensive. Yet some of the best software is created by a community of users, and available free of charge. A lot of the most important software 'behind the scenes' is open source, including the UNIX and Linux operating systems versions of which run everything from the internet servers hosting your website to the basic functionality of your iPhone or tablet.
Open source software is free to use and allows software developers to download the source code, make changes and improvements to the software, or even use parts of it in other projects as long as those new projects are also open source.
There is usually an individual or committee that determines which features to include in the official version of the product. Others are free to release an alternative version or reuse parts of the source code to create completely different software packages. In most cases, anything created in this way must legally remain open source and be available to the world for free under the same terms as the original software.
Many important open source projects work behind the scenes, such as the Linux and BSD operating systems powering everything from the Internet to your mobile phone, and the MySQL and PostgreSQL database packages which store data online. However, an increasing number of projects compete directly with commonly used commercial applications like Microsoft Office or Adobe Photoshop, or allow you to set up services like file sharing or even customer relationship management.
When you use open source software packages, there is no obligation to contribute, although the developers usually ask that you let other people know they exist. At the same time, anyone can contribute to the open source software community by providing user feedback and ideas for improvement, reviewing documentation, and reporting problems they find.
An increasing number of open source applications have stepped out of the shadows to compete directly with commercial software, offering you many of the features from software packages you use every day, and even some additional features. These applications cover every area of software, from office and creative applications to film and video editing, cloud services, enterprise resource planning, customer relationship managmement, and even games.
Here are five relevant open source business applications, which you can compare with commercial products, and try out for yourself:
1. LibreOffice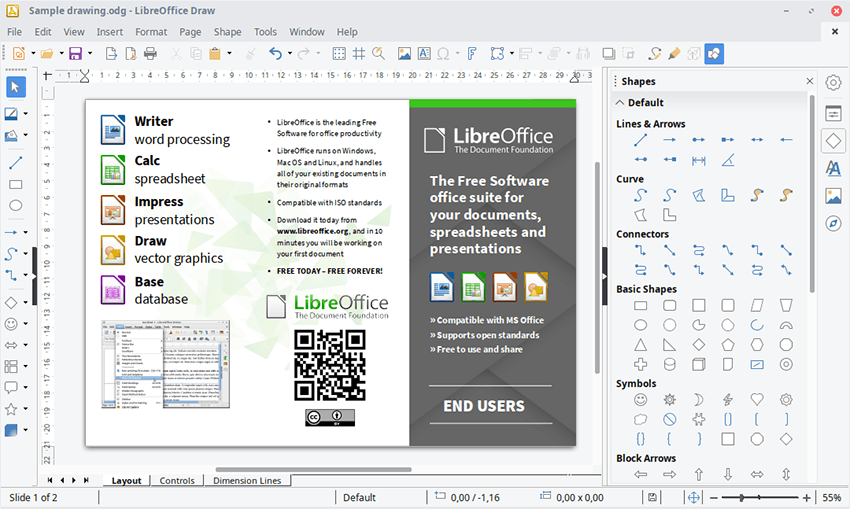 Word Processing, Spreadsheets, Presentations, Diagrams, and Databases.
Compatibility: Microsoft Windows, Macintosh OS, and Linux.
LibreOffice is an office suite including a word processor, spreadsheet, and presentation software. LibreOffice competes against Microsoft's Word, Excel, Powerpoint, Visio, and Access. It covers the same basic set of applications as the RRP $919 Microsoft Office Professional and RRP $769 Microsoft Visio, and is available at libreoffice.org for free download.
The interface for LibreOffice is reminiscent of earlier versions of Microsoft Office before they introduced the ribbon interface. LibreOffice has relatively good compatibility with Microsoft Word and Excel files, and a few additional features of its own. It can save documents as PDF files or ePub ebooks and use third-party extensions with more features and templates, supporting everything from invoices to research papers, doctoral dissertations, and even CD/DVD covers.
LibreOffice has a slightly different feature set than Microsoft Office, and some advanced functionality and fonts from Microsoft Office may not be available. Because of the font substitution, some documents may look slightly different. However, LibreOffice is suitable for day to day use, and could be the best choice for some applications or users.
Recommendation: Great for most people who don't need to share complex Microsoft Office documents. It could save money, particularly if you are paying full price for Office 365 every month.
Try it out at www.libreoffice.org


2. Thunderbird Email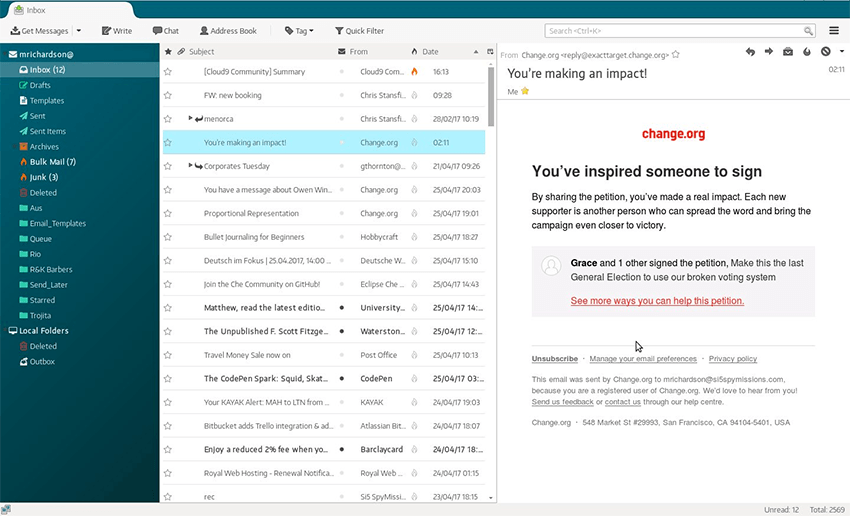 A great open source alternative to Microsoft Outlook and other email clients.
Compatibility: Microsoft Windows, Macintosh OS, and Linux.
Thunderbird is an email client that's easy to use but with a lot of unique and advanced features. Thunderbird supports search within your emails, tabbed emails, message archiving, and delivery of large files that can't usually be sent by email. Thunderbird has add-ons for calendar, address book, chat, and instant messaging. It can even schedule emails to be sent at a future date and time, check grammar, and encrypt your email for security. Thunderbird extensions support everything from making eBay listings to letting you know the weather forecast as you're writing.
Thunderbird has a strong emphasis on security, with built-in protection against junk mail and 'phishing' scams that could trick you into giving your username and password to fake websites. Junk mail filtering is built-in, including the ability to learn which messages are junk from your feedback. Options for advanced encryption and digital signatures are planned for later this year.
Recommendation: If you've had enough of your current email client, Thunderbird could well be a free and easy alternative.
Try it out at www.thunderbird.net
Feel free to contact us if you need help with setup or to move your email across.


3. NextCloud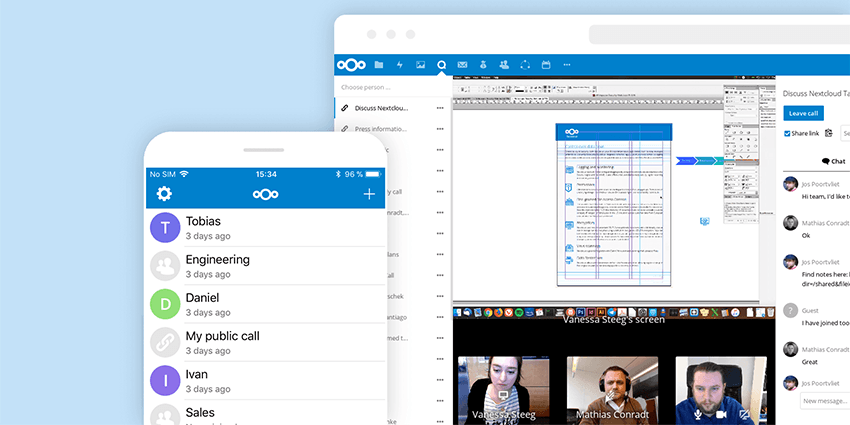 Why trust your data to someone else's cloud services, when you can run your own?
Compatibility: Microsoft Windows, Macintosh, Linux, iPhone, and Android.
NextCloud allows you to run your own shared 'cloud' file server, using a server-grade computer in your office or a leased server in a commercial data centre. NextCloud has much of the same functionality as commercial file sharing products like Dropbox, without the monthly fees, limits on users and disk space, and security risks.
If you have many users or large amounts of data, NetCloud could save you hundreds or thousands of dollars in monthly fees. A suitably configured server can have as much disk space as you need, and backup to removable hard drives or tapes that can be physically stored in a safe location. Your data will be stored locally and not subject to foreign laws or the policies and whims of whichever company runs the file sharing service you might be using now. With NextCloud hosted on your own server, you can have as much disk space as you need. Importantly, because the shared data is located at your office, and physically within Australia, it is not subject to the laws of other countries or the whims and policies of whichever data centre or file sharing company you would otherwise be using.
NextCloud also includes file sharing, groupware, emails, calendars, and contacts and integrates tightly into your Windows, Mac or Linux computers, and your iPhones, Android Phones, and Tablets. Bring email in-house can reduce or eliminate monthly per-user fees for products like G Suite or Office 365, but without the difficulties involved in setting up expensive and complex products like Windows Server, Microsoft Sharepoint, or Microsoft Exchange.
Installation of NextCloud on-premises requires specialised work, and a suitable office server computer if you don't already have one. NetExperts can also provided hosted NextCloud solutions as an alternative to other file-sharing services. With cost savings, security advantages, and potential performance benefits from your data being located on the local NBN in Australia, you might save both time and money.
Combined with off-site, disconnected backup, a NextCloud backup can also protect you from Ransomware and unauthorised deletion of your files.
Oh, and one more thing: a high quality, Skype-like video chat server with screen sharing is also available.
Try it out: If you have competent network administrators, download and try it at www.nextcloud.com
We're here ready to help you set up NextCloud for your needs.


4. Gimp and Krita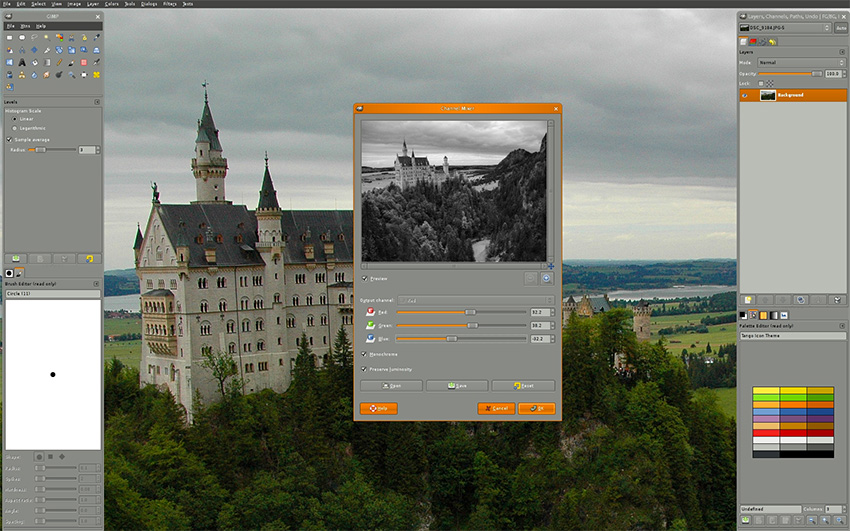 Create beautiful digital photos, images, and paintings. Without the monthly fee.
Compatibility: Microsoft Windows, Macintosh, and Linux.
GIMP is a powerful, sophisticated graphic design and photo editing platform, with many of features used in Adobe Photoshop. While Photoshop costs about AU$160 per user per year, GIMP is free and has lower hardware requirements. It offers layers, curves, masks, filters, and many of the features that were traditionally a part of Adobe Photoshop. Krita, another open source graphics program, provides a range of fantastic features for digital artists.
Photoshop may have a cleaner and more intuitive interface, but GIMP is free, smaller to download, and can run well on slower, less expensive computers. GIMP is focused on digital photography, while Photoshop has more specialised tools for graphic design and other applications. For example, Photoshop supports CMYK profiles for printing on paper, while GIMP is limited to RGB. However, for most digital image processing at home and in the office, GIMP is likely to be good enough. And digital artists have many reasons to love Krtia.
GIMP has dozens of free plugins that support many features you might need. It is certainly capable of performing basic tasks like cropping and combining photos, adding text an captions, adjusting brightness and contrast, and even some basic work with layers. Krita, for digital artists, is a full-powered professional tool. If you have a team keeping your website up to date, most of then might be able to use GIMP while the key graphic designers use Photoshop for more complex tasks. If you are trying to conserve cash flow and eliminate monthly fees, GIMP is definitely an option to look at. And Krita is definitely fun.
Try it out: Free downloads at www.gimp.org for GIMP, and www.krita.org for Krita.


5. YetiForce CRM
Professional Customer Relationship Management. Without the expense.
Compatibility: Standard Apache/PHP web server. Connect on any Windows, Macintosh, or Linux computer with a web browser.
YetiForce CRM is a Customer Relationship Management system that provides tools for Marketing, Sales, Customer Service, and Accounting. The core system is free and open source. Some specialised modules are commercially licensed and have to be purchased if required. Written Using PHP and MySQL as a web application, it can easily be installed on your existing web server offering a vast array of features with no monthly fee for the low, low price of free.
While YetiForce charges between 65 and 238 euros per month for 'cloud' hosting, NetExperts can install YetiForce on a server located in your office, eliminating monthly fees.
YetiForce PHP source code is available, allowing modifications and enhancements to meet your specific needs. However, such customisations do have to be shared with YetiForce and any other interested parties to comply with the open source license.
YetiForce is a great way to get Customer Relationship Management without the high costs. There are no ongoing fees if you have a server located in your office, and a basic setup is unlikely to be expensive.
Find out more at www.yetiforce.com or call NetExperts for a demonstration.


With up to 300,000 open source projects in existence, and perhaps half a million software developers involved worldwide, the open source world will have something for you, as a user and maybe even as a contributor. If you'd like more information, please feel free to give us a call.